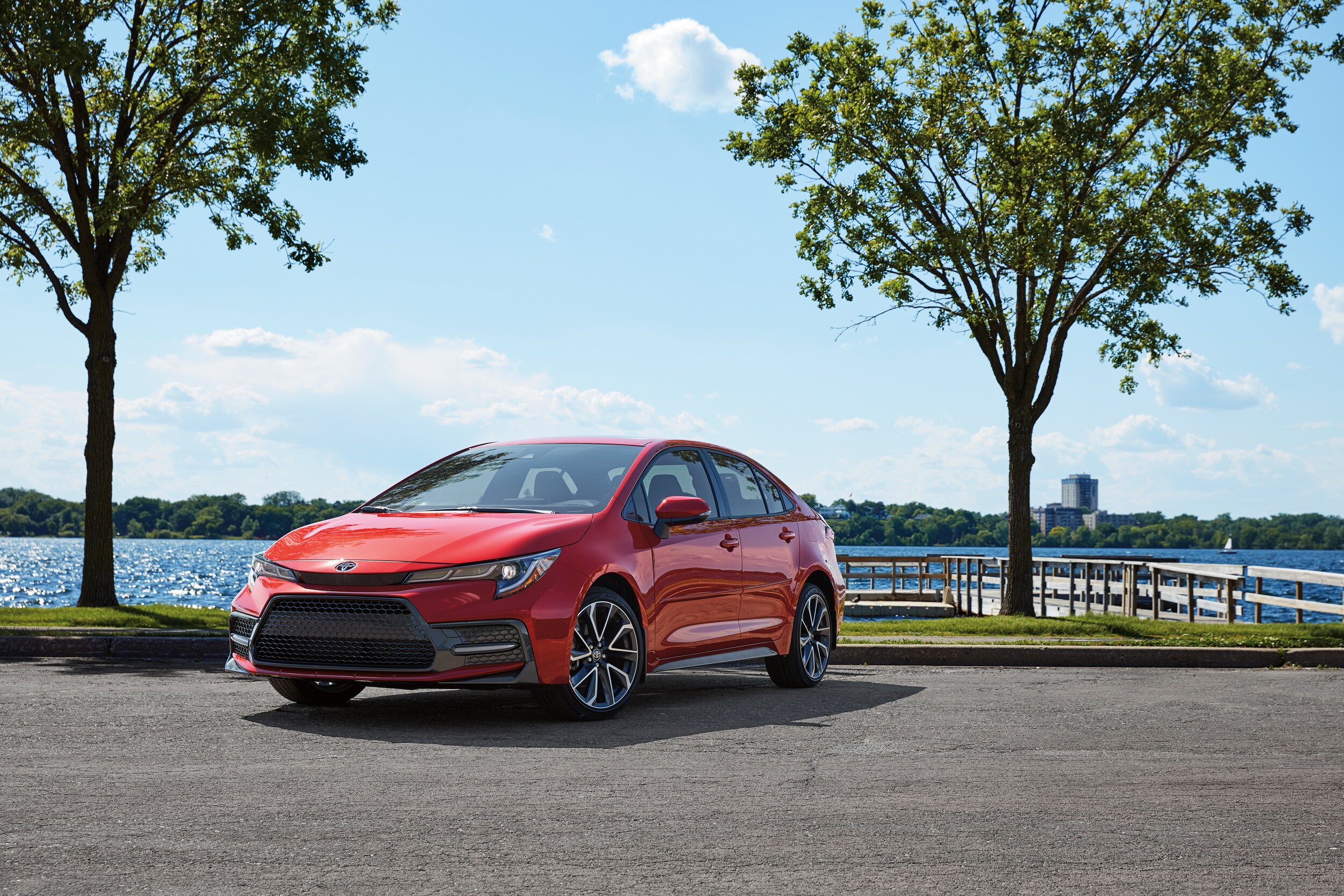 ​
The 2020 Toyota Corolla XSE offers an all-new take on the classic. This all-new version delivers everything you expect from this famously functional, practical, and reliable line of automobiles. Like its predecessors, the new Corolla promises to be safe, reliable, solid, and affordable.
The Exterior
The new exterior is noticeably sharp, with dramatic lines that suggest performance without sacrificing practicality, perfect for Edwardsville drivers. Optional low profile tires and an aggressive new black high-impact-plastic front grill suggest the high level of machining that went into the bodywork.
The Interior
Inside the Corolla XSE is full of useful and attractive technology. An impressive list of safety features comes standard, including blind-spot monitoring, lane departure alerts, and a pre-collision system, among other advanced features. Admirers of last year's Corolla will also appreciate keyless entry, pushbutton start, heated front seats, a power-tilt sunroof, an 8-inch color infotainment touch-screen with Apple CarPlay capability, and a six-speaker surround sound system.
Under the Hood
This sedan also comes with robust powertrain options including a hybrid engine. The XSE runs on a 2.0-liter twin-cam four-cylinder engine paired to a standard CVT. The SE version has an optional manual gearbox, for those in Highland who appreciate full control. The transmission is a departure from the norm with its ability to launch into first gear right off the mark. Paddle shifters and manual mode enable the driver to shift through ten different simulated gears. The engine is noticeably responsive for a commuter vehicle, and the stock engine package delivers as much as 38 mpg on the highway through St. Louis.
Additional Features
Radar Cruise and lane assist work together well during long commutes from Shiloh IL. The radar is designed to be conservative, engaging the brakes at the slightest indication of danger. The vehicle's 169 HP is more than sufficient to power through hazardous situations, and there's plenty of proven safety tech to fill out its safety profile nicely.
The NHTSA gave the Corolla XSE five out of five stars in four categories and four out of five in Overall Rollover.
Available today near Belleville IL, come on down and give the 2020 Toyota Corolla a test drive.